WITH AN EXPERIENCE OF MORE THAN THIRTY YEARS, MPI MAGNETS IS PROFESSIONALLY PREPARED TO BRING YOU THE MOST INNOVATIVE SOLUTIONS AND PROVIDE YOU WITH HIGH-QUALITY INDUSTRIAL PERMANENT MAGNETS PRODUCTS.
MPI is an established company committed to quality and determined to constantly invest in high-end technologies, unique services, and excellent support.  We are internationally known as industry leaders in the production and distribution of high-quality permanent magnets for all industrial applications.
Well know companies around the world have selected and qualified us as preferential supplier, since for years we have been providing them with consistent design, development, production and delivery of high-performance industrial permanent magnetic products.  They appreciate our competence and require constant collaboration for new projects' development.
The history of our success starts from the foundation of our company in 1985. As a new company that dealt with the manufacturing of magnetic tools, we had the determination, willingness, diligence, and committed to excellence to grow and integrate into the global market.
Today, we are ranked at the top as one of the best industrial permanent magnets manufacturers able to supply companies in different industrial fields. Moreover, we're capable of providing a complete service concerning permanent magnets in all of the following subjects:
Support in 2D and 3D electromagnetic design by mean of advanced computing software
Sampling and prototypes
Materials characterization in MPI laboratory
Material supply with complete traceability
Customer support in quality management
With the complete conviction that we are the company you need to achieve your business goals, we invite you to a collaborative effort to realize a great project together!
MPI Magnets is a customer-oriented company and excellent customer service is our top priority. Our main target is to inform our customer in a comprehensive way, by giving detailed information on all the materials that we use when developing a project starting from the design and prototyping process,  to the final production step.
To achieve this, we rely on three essential aspects in our business:
Our excellent knowledge, experience, and expertise of manufacturing processes
Our fully-equipped laboratory with sophisticated and advanced instruments able to supply all essential information on permanent magnets
Our warehouse able to supply magnets efficiently and in short time
MPI has a long tradition in electromechanical industry. Such knowledge allows us to assist our customers and to offer the use of the advanced instrumentation of our lab.
An essential aspect of our activity is being able to select the proper manufacturing option in order to satisfy any specific request of our customers and choose the most suitable, productive, and effective process.  We offer support at any level, in electromagnetic design, by means of the most advanced design software of either finite element or lumped parameters.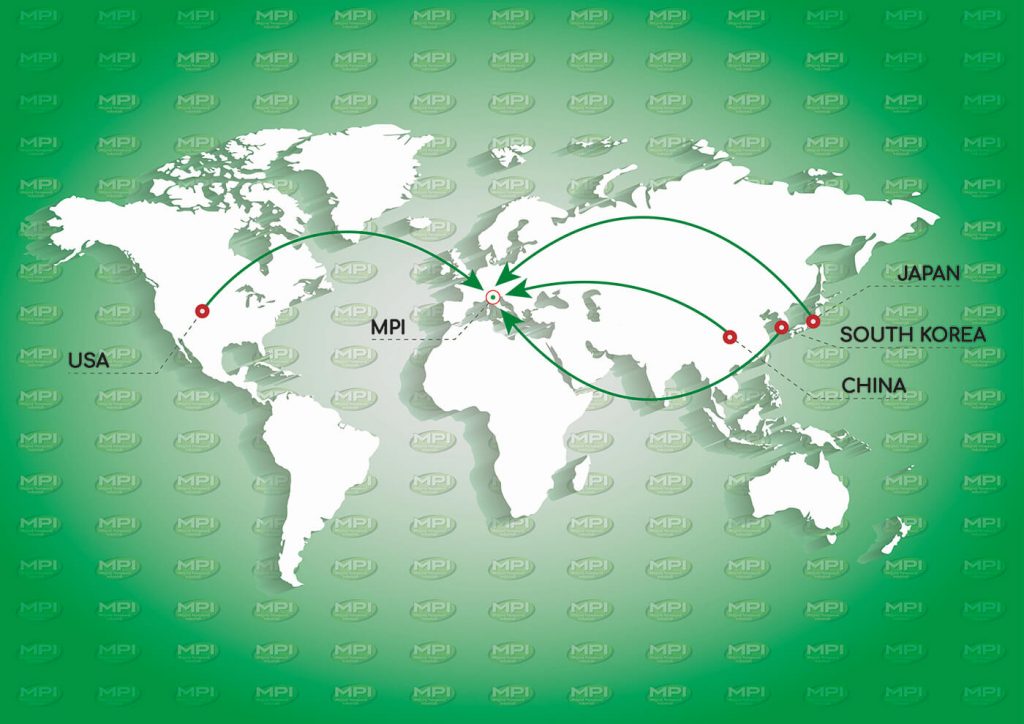 Our attention is focused not only on the magnets we supply, as we also reserve a special attention to the production processes from the environment point of view.  MPI also considers this as an essential factor in the choice of partners. In July 2012, we inaugurated our new PV installation.
It has the capability of generating the whole electricity requirements of our company and therefore it covers all our power needs. Producing without pollution means to be ready for the great challenge with future.
MPI firmly believes in the educational value and aggregation of sports, so much that it is active in sponsoring young football and basketball teams as well as amateur cycling ones.
A great success is when you find people with whom you have a lot in common. For this reason, we have joined forces with "Anna Project" to help people in need. MPI has invested for many years to the project hoping that in the future young people will have greater growth opportunities.